<! -- THE SIDEBAR -->
"Ultimately, users visit your website for its content. Everything else is just the backdrop. The design is there to allow people to access the content."
-- Jakob Nielsen, from his book: Designing Web Usability.
"Make it as simple as it needs to be. But no simpler."
-- Albert Einstein
"You're off to Great Places!
Today is your day!
Your mountain is waiting,
So... get on your way!"
-- Dr. Seuss
"And will you succeed?
Yes! You will indeed!
(98 and 3/4 percent guaranteed)"
-- Dr. Seuss
<! -- END THE SIDEBAR --> <! -- A FILLER COLUMN --> <! -- THE CONTENT -->
WordPress Professional Installation And Configuration
What Is WordPress And Why Use It For Your Blog and/or Website?
WordPress is a platform used to power blogs and websites.
WordPress is an Open Source blogging/Content Management System platform used for both blogs or standard websites, or a combination of both. WordPress is an established success. WordPress can be a blog only, it can be a traditional website with only web pages and no blog posts, or it can be a website with a blog. WordPress is very flexible.
A theme is used for the look and presentation of your WordPress blog or site. Themes are limited only by a theme designer's imagination. There are tons of available WordPress themes. With WordPress, your blog or website will look as you want it to.
WordPress can do just about anything when the proper plugins are added to it. Plugins are code gizmos that add to WordPress's functionality. For example, by adding a plugin WordPress can be used for eCommerce so your customers can order your goods and services from your online store. WordPress is very extensible and has a vast amount of plugins available.
WordPress is used to power many, many websites.
According to an April, 2012 yoast.com infographic, WordPress is used on 72.4 million different websites around the world. The market share of WordPress is 53.8%. This beats out the combined market shares of WordPress competitors Joomla! (9.2%) and Drupal (6.7%) of 15.9%.
With the vast number of themes and plugins available for WordPress, the extensibility of WordPress makes it a very powerful foundation use for your blog or standard website. WordPress is free to use, it is distributed under the GPLv2 (or later) license from the Free Software Foundation.
WordPress Works Wonderfully!
Use WordPress To Power Your Website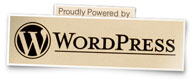 JonathanRAllenWebDesign.com is Proudly Powered by WordPress.
WordPress is an excellent choice for your blogging or website platform.
Here are a few reasons why:
A WordPress blog or website is a tool that can help change your life. WordPress will let you communicate your passion, your expertise, your knowledge, skills, abilities, your talents, your business, to the entire world. You can do this from your top-floor corporate office, or from the empty closet in the extra bedroom of your sister's apartment. All you need is a computer, an Internet connection, WordPress installed at a web host's server, a domain name, and your imagination, smarts, effort, and enthusiasm. WordPress is a tool that won't hold you back and will grow with you. You could change the world, or your life ... for the better. It can all begin with a WordPress blog or site.
WordPress is constantly being improved. Although WordPress is already superb, there are people from all over the world who are busy right now working on the next WordPress release. WordPress is healthy and alive!
WordPress is customizable. WordPress uses themes for the presentation of its blogs and websites. Themes are all about the look of your WordPress site. There are free WordPress themes and there are paid-for premium themes available that were developed by professional WordPress theme designers. You can also have a your own unique WordPress theme built from scratch. I can develop a custom WordPress theme for you. This website is powered by WordPress and uses its own custom-developed Jonathan R. Allen Web Design theme.
WordPress is very flexible. WordPress plugins are gizmos you can add to your WordPress site to give it more functionality. There are thousands and thousands of WordPress plugins available. Whatever job or chore you need your WordPress site to do, chances are someone has developed a plugin to do just that. There is no need to re-invent the wheel! Plugins extend WordPress.
WordPress is a good deal because WordPress is free. It won't cost you a penny to use the WordPress blogging platform. There are no license fees to use WordPress. Owning your own blog is something I highly recommend. If you want to Own Your Own Blog, you will have to pay a fee to a web hosting service, and a fee to register a domain name. These costs are not great, and for the control and freedom you gain over your website, they are well worth it. Web hosting costs vary considerably, but there are many fine web hosts that charge a very affordable fee. Domain name registration should cost you very little. There is a great number of free themes and plugins to select from, and there are some themes and plugins that requirement payment. However, the WordPress platform itself is free to use.
WordPress is a mature and stable product. From humble beginnings in 2003, WordPress has grown to be the largest self-hosted blogging platform in the world. WordPress is used by millions of blogs/websites and these sites are viewed by tens of millions of people each and every day. Documentation and support for WordPress abounds. The WordPress website (wordpress.org), is jam-packed with information.
A WordPress Blog and/or Website
WordPress Professional Installation And Configuration
Installation and setup of the latest version of WordPress at your web host using a domain name you have chosen and registered. If needed, I can help you select a web host and choose a domain name.
Installation, setup, and activation of needed plugins (gizmos that add features to WordPress) that will make your installation of WordPress a professional one. There are certain WordPress plugins you ought to have installed and working with your WordPress blog and/or website. As part of my service, I will install and configure these plugins so your WordPress installation is a professional one. Depending on your particular WordPress needs, I will recommend and install other plugins.
Backup and analytics will be added as part of my WordPress professional installation.
Making your WordPress website secure is a top priority. My WordPress professional installation and configuration will include my code tweaks and changes to help safeguard your website from malicious attacks.
Installation and activation of any pre-designed theme you desire (A theme is how your WordPress installation looks, its appearance.). I can help you find a suitable pre-designed theme, and I will provide minor tweaks so the theme fits your needs as many themes have multiple options that must be configured. For an extra charge and service, I can develop your own custom WordPress theme from scratch.
The configuration of up to three WordPress pages in addition to About, Contact, and Sitemap pages.
I will provide you one month of unlimited support to help you learn to use and maintain your WordPress Blog/Website.
You will have a professional installation of the powerful and flexible WordPress platform behind your blog and/or website, and with my support you will learn and know how to use WordPress to effectively accomplish your website goals.
As an extra service and charge, I can provide you Custom WordPress Theme Development.
WordPress Blog/Website Installation And Configuration Price: $400.00.
Please Contact me and ask how I can get WordPress working for you.
Do You Have A WordPress Blog And/Or Website That Needs Attention?
How I Can Help...
Add a new WordPress blog to a current website.
Redesigns - Large or Small
WordPress Plugins - Basic and Essential Plugin Installation and Configuration
Twitter and Facebook Integration
eCommerce - Let's Get You Selling Your Goods or Services Online
Hosting and/or Domain Transfer
WordPress Maintenance - Keep Everything Up To Date
Backup Of Crucial WordPress Files
WordPress Consultation and Help
Please Contact me and ask how I can help with your current WordPress installation.
What Is A WordPress Theme?
A WordPress theme is what makes your WordPress blog and/or website look the way it does. The theme is what has the layout, the colors, the typography, and everything that has to do with the presentation of your WordPress installation. Your theme is what makes your WordPress blog and/or website look unique. WordPress themes can be changed easily, you'll want to find the theme that is just right for you. There are many, many WordPress themes that can be used for free, and there are some you must pay for.
What Is A Custom Developed WordPress Theme?
A WordPress theme can be custom designed by a theme developer. There are many parts that blend together to make up a WordPress theme. WordPress themes can be developed from scratch, and it is not a trivial process. A WordPress custom theme can also be modeled after an existing theme, but it will have your desired design, this is a popular way to have a unique WordPress theme. I can provide you a Custom WordPress Theme Development service for an extra charge. Your WordPress custom theme will be unique and created to meet your needs and design preferences.
What Is A WordPress Plugin?
A WordPress plugin adds something to WordPress, it adds a new feature or functionality to WordPress. Plugins extend WordPress and help it do more than what the basic installation does (Which is already quite a lot!). Plugins are a way to customize WordPress to your particular needs, they help you to supercharge WordPress. There are many, many, many plugins to chose from and most are free for you to use, but some require a payment. The WordPress community is always working on current plugins by updating and maintaining them, and creating new plugins.
Own Your Own WordPress Blog Or Website
When you host a WordPress blog or website on your chosen web host's server, you have total control. When you Own Your Own WordPress Blog Or Website, you are the king or queen of your blog or website. Its future is always in your hands. Your work will not be jeopardized by the policies forced on you by a third-party that hosts your blog or website for free.
When you install a WordPress blog or website at a web host of your choosing, and use a domain name that you have chosen and registered, then you are going first-class with your blog or website efforts. It is the professional way to have your blog or website.
Your Off-Site Website Department
Website Geeky Gobbledegook Causes Headaches
Jonathan R. Allen Web Design can be your off-site Website Department and handle all the website geeky gobbledegook for you. I'll save you the website headaches.
Do these kinds of things sound like website geeky gobbledegook to you?
Website hosting - Upload to server - How to buy a domain name - DNS and Nameservers - Add on domains - Sub domains - Top Level Domain - cPanel - HTML - CSS - PHP/MySQL - WordPress - FTP - WordPress themes - WordPress plugins - Sitemaps - RSS - SEO - Website layout - HTML Validation - CSS Validation - Website color schemes - Liquid layouts - Fixed layouts - 960 grid - Browser testing - Shared hosting...
It's enough to give you a headache. I can help you with the website geeky gobbledegook. Let me have your website headaches. Jonathan R. Allen Web Design plans, designs, develops, and manages effective websites, WordPress blogs, and custom database websites from start to finish for business, organizational, or personal needs. Hands-on personal attention, and exceptional customer service, are cornerstones of Jonathan R. Allen Web Design.
By establishing a close web designer and client relationship, my mission is to provide you with professional design and development services. My objective is that your website be effective in achieving your statement of purpose, in accomplishing your online goals, and successfully communicating with your visitors. Your time is valuable and designing, developing, redesigning, and maintaining a website of any type or size is not trivial work. I can be your off-site Website Department and save you time, and all of the other website headaches and chores.
<! -- END THE CONTENT --> <! -- A FILLER COLUMN -->